Everyone's got a story to tell, and HappiMess Media is always looking for guest posters who want to tell theirs. You provide the words, and HappiMess will provide the accompanying illustrations. Take this opportunity to promote your latest project, or just share for kicks.
Intrigued but not sure what to write about? Preferred guest post content is goofy/wacky, nostalgic, or both. Drama—like The Hatchet Lady story—is also exciting! 
In short: Any experience you have had that you think would be fun to have four or five over-the-top, exaggerated illustrations accompanying it is potential guest post fodder.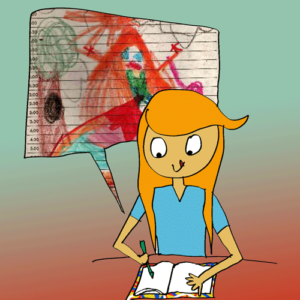 (Want to write a guest post but don't want to get too personal? Exercise your creative writing and imagination skills by penning an Artistic Liecense post. Pick a work of art either famous or obscure and lie your ass off about it!)
Here are a few sample posts to use as inspiration:
The purpose of hosting guest posts is to generate a mutually beneficial experience of getting both HappiMess Media and the work of the guest poster (you!) to reach a wider audience. And so, when the post goes live, all that's asked of the guest poster (again, that's you!) is to share it on social media and tag HappiMess Media on Facebook, Instagram, Twitter, and/or Tumblr!
When you write your post, keep the following in mind:
As for post length, one or two pages double-spaced in Word is best!
Your post may be edited for clarity and flow, but you'll see and confirm any changes prior to posting.
Feel free to include any links or images that promote you and your work.
Don't forget to include a brief author bio!
Send your guest post(s) or guest post idea(s) to happimessmedia@gmail.com or use the contact form!
—