Find the answer to your most pressing HappiMess-related question!
"Who created HappiMess Media?"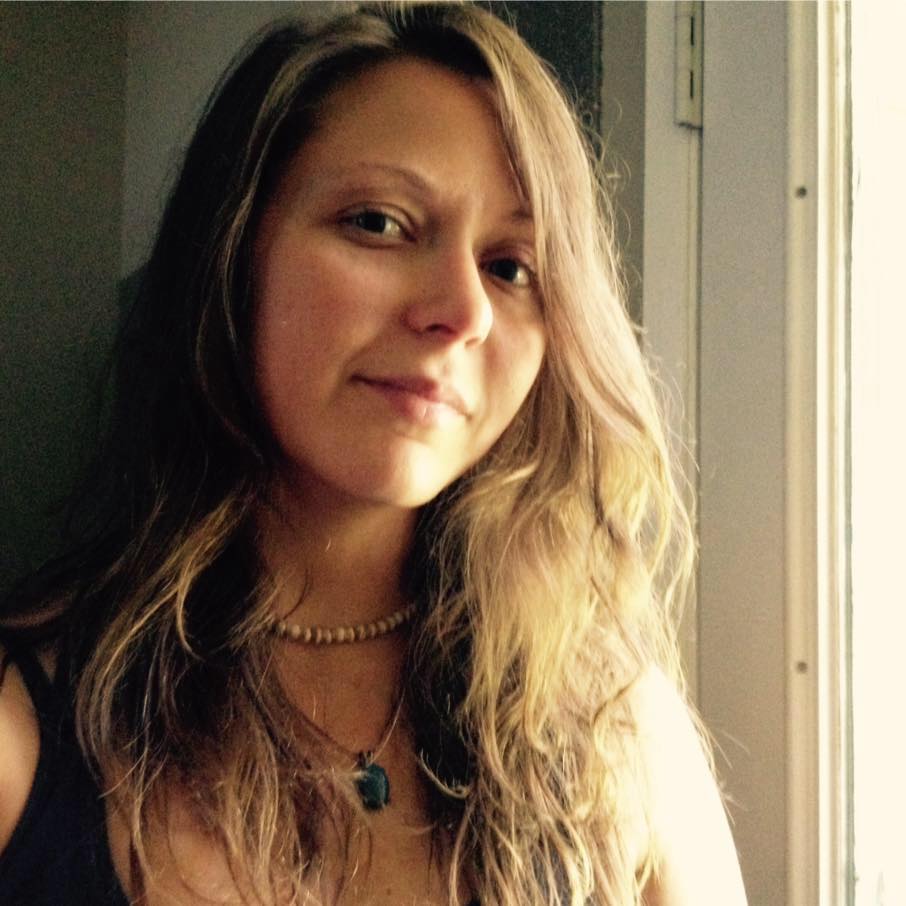 HappiMess Media is the brainchild of Stef, who used to want to be a mermaid, but eventually came to the conclusion that touching her own tail and fins would probably be gross. She currently works as a freelance writer and instructional designer in Portland, OR, with her boyfriend, Honey Bear, and their dog, Max.
Her hair used to more closely resemble that of her cartoon self, and she also more regularly wears her glasses, so this is just another cruel reminder that cartoon characters look different than they do in real life, as demonstrated in the movie Cool World. (Another cruel reminder: Cool World. That exists.) That reminds her, when she was a kid, she threw up all over her Cool World pin at a Star Trek convention, making it so her dad couldn't meet the guy who played Q. Fun facts like this run rampant in her HappiMess blog!
"Why 'HappiMess'?"
In 2013, Stef aspired to open an Etsy shop featuring zines, and oh, be glad you weren't around for the great what-the-heck-should-this-thing-be-called stage of the project. Or maybe you were. If you were, you likely endured lists of possible names and sketches of logos. One of the choices—HappiMess—was a perfect fit for what Stef was going through at the time: facing up to a lot of difficult truths while still trying to find peace and joy. The logo—cartoon Stef and a little friend atop her bird's nest of a head—reflect the spirit of "HappiMess": finding fun and being positive in less-than-ideal circumstances, and also not feeling like brushing her hair.
"What is the HappiMess blog?"
The HappiMess blog is a collection of short illustrated memoirs and other randomocity from Stef's life and imagination, each entry varying in length and tone. Some names throughout HappiMess have been changed for privacy purposes, but mostly because it was more fun to call people things like Twist and Pine Cone. For the most part, these new names aren't clues signifying anyone's personality, but were chosen at random from a heap of Stef's favorite words.
Sadly, Stef doesn't really know that many life-size bears and unicorns and so on personally. It's just more entertaining to have dinosaurs and ghosts wearing sombreros represent the people who've been important to her.
"What is the Produce High webcomic?"
Ever wanted to see a banana do a keg stand? Produce High—a weekly webcomic starring your favorite fruits and vegetables enduring the histrionic ups and downs of high school—can fulfill that desire for you and so much more! Inspiration stems from a love of cartoons and '90s teen dramas, Archie comics, and reading too many Sweet Valley High novels.
The project started so innocently: During one of their many daily multi-paragraph emails, Stef's friend Casey asked her to name the top five fruits and vegetables who would sit at "the cool table" in high school. This challenge led the two of them to informally plan the cast and the first season of Produce High.
Stef wrote the first six episodes for 2007's Script Frenzy challenge, but it wasn't until 2012 that she put in a real effort to make Produce High a reality. It first debuted as an animation, with six 15-minute episodes comprising season 1. In 2015, Produce High was revamped into the webcomic as it's known today!
"What is HappiMesscellany?"
HappiMesscellany is the opportunity to tell stories and share ideas and insights by grouping the content of others into a collection.
Often the creators of these images, animations, and so on are unknown—their work is often found on Tumblr and Pinterest and uncredited.
If you're the creator of any of the works included in a HappiMesscellany collection and you want to be credited or removed from inclusion, please contact HappiMess Media using the form at the bottom of this page or by emailing happimessmedia [at] gmail.
"What is the HappiMesseum?"
The HappiMesseum (it's like you're trying to say "museum," but your mouth won't cooperate) is where homage, kudos, and props are given and hats are tipped to all things that have influenced and inspired the world of HappiMess Media in some way and have ultimately brought some specialness and fun into the world. Exhibits may feature literary works, famous pieces of art, magnificent places to visit, a spectacular flower, an amazing idea, or heck, even a particularly zany Archie comic. (That Jughead! He eats SO MUCH!).
"What happened to that one project you were working on?"
Projects that have been finished or retired (i.e., MARGO RISING and Artistic Liecense) can be found under More Projects. 
"What inspires HappiMess Media's content?"
HappiMess Media is fueled by Shel Silverstein's poems and illustrations, Sweet Valley High, Calvin & Hobbes, South Park, Archie comics, pre-2000s MAD and Cracked magazines, Hyperbole and a Half, and a bunch of other miscellany prominently displayed in The HappiMesseum.
"How often is new content posted?"
The HappiMess blog updates on Tuesdays, and there's a new Produce High every Thursday. The HappiMesseum updates its collection slackadaisically (i.e., at random but usually on Mondays). The HappiMess Media Instagram posts content almost daily.
"How can I subscribe?"
At the bottom of every page on this site (including this one) are links to the HappiMess Media Facebook page, Instagram, RSS feed, and other sites to help you stay up to date on all things HappiMess and Produce High!
"Would you be open to a collaboration?"
YES! Contact me! Tell me your vision!
"Where shall I direct all my love letters and chain mail?"
You can send an email to happimessmedia [at] gmail or a message via the HappiMess Media Facebook page. You can also use the form below to leave a message about HappiMess, Produce High, or your favorite kind of baby animal.