On an evening in August 2013, Twist hosted me and several others at her parents' lake house beside a lake I don't even know the name of. I legit have no idea where in northeastern PA we were. I suppose I could just ask Twist, but knowledge would only interfere with the wonder of it all.
It was already dark out when I rode up with Twist in her van. First we stopped at Sheetz so we could squeegee the inside of her dirty windshield, an activity that she kept reminding me was all my idea. She only had one headlight, but all the cops we passed—and there were quite a few—were distracted by other wrong-doers.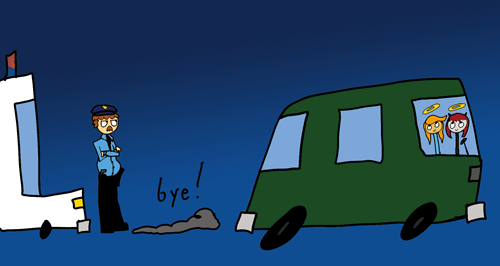 On the way there, we listened to REO Speedwagon and Rasputina and David Bowie while Twist mused that the others probably thought she was leading them to a murderous doom deep in the woods. "The others" being those traveling in the car behind us: The President, whom I was dating at the time; The President's friend Stemware, who makes glass pipe-ware for a living; and Stemware's ex-girlfriend Cinder, who was pretty mean to Stemware. For example, The President told Stemware how when I don't like or agree with what he's saying, I go "DER DER DER" (lolz). Conversely, Stemware said Cinder when she doesn't approve, she slaps him the face. They seemed to be involved, albeit stiffly, and she was saying how she was going to be the mother of his children and was polling everyone about what we thought of them as a couple and blah blah. But in the morning, she apparently "took it all back," chalking it up to her just being drunk, while at breakfast, Stemware told me he wanted to marry her. It was truly bizarre!
The lake house was more like a shack than a house, but it was adorable. Twist's mom had made it all cute, and later in the night, Twist gave me a private tour while having a total mom crush, marveling at how precious her mom is. For instance, she pointed to the basil and rosemary in a glass jar and squee'd: "She ARRANGED it!" She said her mom is totally the Blair Witch because she bends twigs and branches and ties them together to make decorations for the yard.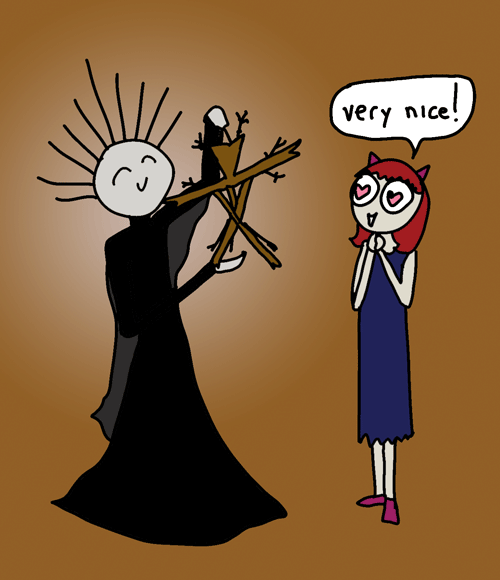 The Blair Witch had written Twist a note with instructions that Twist read out loud, so we all wound up committing each of the following tasks to memory:
Eat the pickles and the tomatoes.
Refill the hummingbird nectar.
Move the dock three feet on land.
Don't scream the F word.
LEAVE NO TRACE.
The lake house had two summer camps on either side of it—one was a party camp that began blasting Top 40 dance hits at 9:30 AM and the other was apparently a strict Jewish camp. I started rhapsodizing about the novel I'd write about these two rival camps, which would involve counselors that fall in love Montague-and-Capulet style and dealers who'd row boats to the camps to bring them treats and an epic Capture the Flag game, and at the end, the two camps would become one. I voiced all these thoughts aloud, stream of consciousness style, until I forced myself to come to an abrupt stop: "I think I'm getting carried away again." I can't help myself!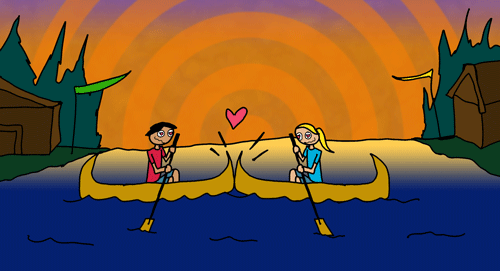 One of my favorite parts of the evening was when Twist and I stood under what I called The Magical Tree—a tree in front of the house covered in twinkle lights and hummingbirds. I declared that we were in some kind of Narnia-esque land and referred to her as "sister." The clouds were blue over the trees; we called that "ghost fire," and that was the foreboding, Mordorian place where we sisters were inevitably headed.
We stood on the dock in the dark and shined the flashlight on all the horrifically huge brown spiders lurking about, and we marveled at the blackness of the sky and the brightness of the stars. Then we hung around the outside bar listening to classic rock. Everyone talked about how they were unplanned babies/mistakes, and The President said, "I was such a mistake I was adopted," and it was actually true and so funny and sad I was just like, "Oh!" and ran to hug him. There was a sing-along to Backstreet Boys' "I Want It That Way." Cinder kept insisting that I drink more and it was aggravating the fuck out of me. I did not care for this girl.
We watched an episode of "Drunk History" starring Winona Ryder and Michael Cera and I nearly had organ failure, it was so funny. We played Cards Against Humanity and Twist wound up with all the racist cards. I impressed myself with my "coat-hanger abortions" contribution for "______: Bet you can't have just one."
In the morning, The President woke me up, insisting we go swimming. I went down to the lake with him and he jumped in in his Huckleberry Finn cut-off denim pants. Later, we all lunched at a nearby general store, where The President tried on a coonskin cap and awesomely '80s sunglasses.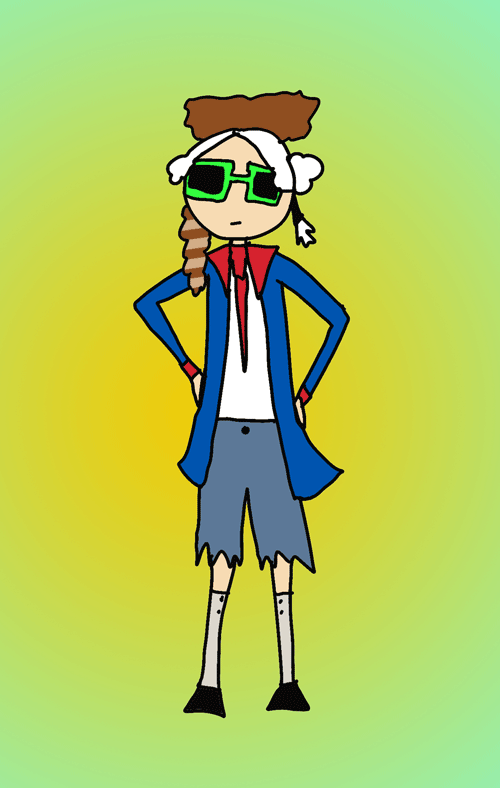 Then Twist, The President, and I went for a ride in the family golf cart, for which her dad constructed a windshield, and The President stood in the back, surfing "like Teen Wolf!" (Twist: "Late Twenties Wolf!"). We took turns driving, and the three of us went to what Twist called "the coolest shop in the world," where she got "a berry-picking hat" but truly pined for Troll socks and a jellyfish lamp.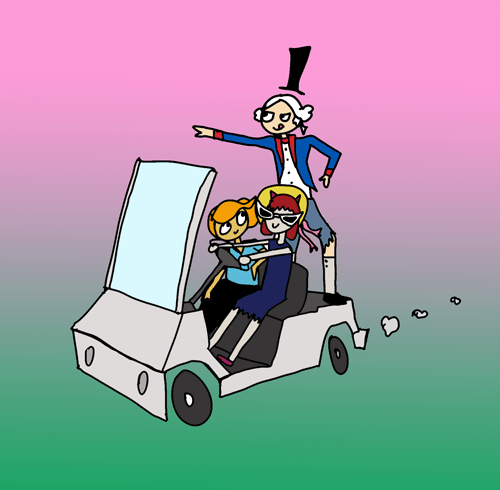 We tromped in the woods. Twist found a rusty gear that she artfully placed in the lake house's garden next to a boot that was looking lonely on the wooden shelf all by itself: An offering to the Blair Witch. Since Twist had the hat for it, we picked berries for a bit before leaving. Right before we bid camp farewell, I drew hearts all over the back of Twist's van window with an erasable marker (which The President and I had already used to write JUST MARRIED on the back window of his single best friend's car). Then I left it behind to amuse someone else.
Crave more summer? Check out the previous Last Night of Summer!
—
Please leave a comment and share this content with your friends on social media—
this helps ensure the continuation of the content you love!